.
MOBILE LEARNING
.
.
FOR OFFLINE COMMUNITIES
.
TRANSFORMED BY LOVE
.
.
from rejected Streetchildren to Beacons of Hope
1. September 2023 | Dandora, Kenya
Final Exams for Primary (KCPE) and Secondary (KCSE) are just around the corner. Every year the learning goes a notch up around September when the final preparations for the national exams are taking place. Alumni SBCC teenagers motivate school kids and talk about their keys to succeed and rise to the next level of quality education. Food, hard work, a care taker and reputable digital learning library changed their life's prospectives!
A DAY WITH "DADDY" MULLI
.
and a plan to collaborate on digital learning for his 900 children in Ndalani.
13. July 2023 | Ndalani, Kenya
Elia my son, Victor and myself had an amazing encounter with Dr. Charles Mulli, a humble father of the largest family on earth. Himself abandoned by his parents and roaming the streets he rose to a successful businessmen who walks by faith and teaches by example. God called him to resuce abandoned children because he understands, that every child has a talent to grow! Today Dr. Mulli is loveingly called "Daddy" by thousands of once homeless, hopeless and rejected children that the Mulli family rescued from the gutters. Over 600 of their children go to school at MCF and Daddy thinks its time that they get exposed to digital learning the way that wiLearn has presented the mobile library.Our wilearn team would be so excited to become part of this amazing journey as we are awaiting the first the deliver of our moLLi case. Film Recommendation
Mully-the World's largest family!
Maasai Smart Learning Workshop
KUWINDA YOUTH
.
KA SOBA
SELF-MADE LIBRARY UNITES YOUTH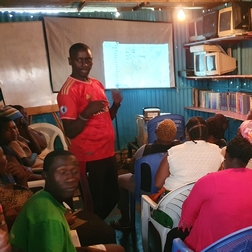 Kris Kiarie and his team Ka Soba (stay sober) have a story of true transformation to tell. Once criminal, addicted and a burden to society he experienced God's healing of mind, body and soul during a rehab time away from the streets of Nairobi. Returning to his hometown Kuwinda after his rehabilitation he has been on a mission ever since - giving youngster in the slum a direction in life, being their to support youth and foster them to develop their talents for the good of society. The Kuwinda community library was Kris's answer to keep children out of harms way and prevent addiction to glue or alcohol. He founded the "Ka Soba" community group of youth and parents to build a place where youth can be, meet, learn, play and receive a listening ear. Sam Mbogo, our librarian friend from the Marist University supported Kris to get started with the wiLearn wiFi library to improve literacy and learning skills among the Kuwinda youth.
This community has thrived on the donated iPads and the wiFi library ever since. The equipment is used daily in a well organised environment. We are proud to be part of this project.
Sam Mbogo is about to launch another 5 school communities in Kajiado district and we are looking forward to funding support for these life changing projects.
RELOCATION
.
DANDORA
STREET CHILDREN NEED A HOME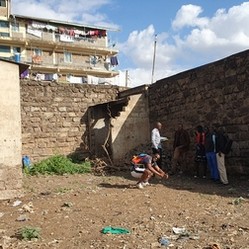 St.Benedict Community Center (SBCC) has adopted Smart Learning in March 2020.
Since then numerous homeless streetchildren have passed through the center, receiving love and care, a warm meal and digitally supported primary education. Rune and Mary are two examples who have moved on and are a shining example among their peers in secondary school.
The situation with the school venue has become precarious in October last year, when the landlord announced plans to sell the plot and evict SBCC from the premises. With the help of Swiss sponsors wiLearn facilitated to buy a 100 m2 plot of land around Dandora to care for the homeless children. We are still short of 3500 CHF to make final payment for the plot.
Land title transfer is almost complete, so our wiLearn team visited the new plot togehter with an architect. We discussed the plans of SBCC to develop the plot asap to continue the caretaking for the over 160 school-age children. SBCC seeks urgent support to plan, temporary relocation and construction of the new center. An estimated 90'000 USD is needed to commence the first two floors of a mulitstory care center with the potential to add 3 more floors as funds are available.
SMART TEACHING
iLearn Kenya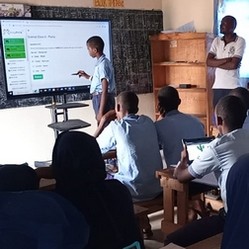 Teaching and learning with Msingipack
at AIC Academy in Wajir - attached is the wiLearn library with self-learning software developed by Virtual Essence, Nairobi. The MsingiPACK lessons are alinged with the Competency Based Curriculum (CBC) that the Kenyan Government has been implementing since 2018. The licenced content is donated by wilearn sponsors. The Wajir Smart Learning (WASLE) organisation is leading the developing project. The WASLE team currently operates with 2 mobile teaching libraries and one classroom smart board with library. They can reach approximately 2000 children, some of them do not attend a formal school or have dropped school due to lack of resources in the family.
Your support for this amazing volunteer teachers is invaluable. They are committed to reach the marginalised kids despite rough and dusty roads and uncovered travel expenses. Your donation will boost this team and help the pastoralists gaining mobile learning skills, teachers digital competence and mulitmedia teaching skills in class!
PROJECT
.
SELENKAY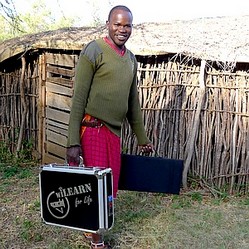 ILOIRERO and Olululunga are the 2 schools
in the Gamewatchers Safris conservancy that operate and learn wih wiLearn Mobile Learning Labs.
Thanks to the kind support from the PD Foundation and Gamewatchers Safaris the project continues with the Maasai communities in 2023. The program boosts digital literacy and saving the wildlife in Kenya's most vulnertable ecosystems
!
moLLi -
THE CASE
m
obile
L
earning
L
ab
i
nteractive means to start digital quality education without internet!
The moLLi case is built to support smart learning in remote and underserved locations.

346 million
Children & Youth

are denied
access
to learn with digital education
content



BUT NO ONE
SHALL BE LEFT BEHIND
The UN Sustainable Development Goals - SDG 2030 - demand more equal access and better quality education for all!
wilearn 4 Life stands in the gap of the digital divide. Children hungry for knowledge can now freely access multimedia libraries. We teach mobile learning competencies to make life long learning a reality to the bottom billion. Because ICT skills have become vital for an active participation in a digitised world.

SOUTH SUDAN EDUCATION CRISIS
The scars of war and instability in the region has had its toll on this generation of school age children. They lack virtually everything for a regular, secure and qualiry edcuation. Mobile learning like wiLearn promotes with their digital learning labs could be part of a solution to make an impact and tackle the education crisis of the youngest nation on the globe. wiLearn seeks Your support to develop a Juba based education server to promote free access to interactive learning content. Our offline labs will make grade specific tuition freely available to the local smart phone users such as teachers, parents or school leaders and pupils. With your support we can bridge the digital divide and establish a quality eLearning opportuntiy for South Sudan's children. Impact Investment is most sustainable through education by supporting the most vulnerable children and youth to learn for life and preparte them with digital skills for the connected world!
TEACHER TRAINING
Teacher with minimal qualification need mentors and guidance to use technology in class. The wiLearn workshops will give them a hands on experience that changes their way of learning and teaching. Enhance the chances of people born and raised in most challenging circumstances and sponsor a workshop. For 4000 USD up to 20 teachers can participate in a digital training. Your support is vital to a child focussed education which prepares children for the connected world. Sponsor our wiLearn instructors to run workshops across East Africa teaching vital digital learning skills to underpriviledged communities.
Read more...
NORTH HORR - KENYA
At the secondary school in harsh Northern Kenya 120 boys have discovered the new resources of a wiLearnCAP server. Rose has a passion for teaching and launched a collaboration with wiLearn to get a digital library to the remote schools to enhance the study material and students skills. They are in need of mentoring and instructions to make the best of their equipment and need more tablets. With just 10 tablets it is not sufficient to give the learners adequate time in class or for after class studies. With just 200 USD you can help a student study multiple exams and hone on the subjects that he is not fully ready for. Your support of just 200 USD can change a life!
NAIROBI SLUMS
When communities are left out from public services, the community has to help themselves. Education supposed to be a basic Child Right but in the mega cities the rift between "those who have" and "those who want" is growing. To
give marginalised people a voice
they need regular and safe education, empowered with todays digital learning tools. wiLearn 4 Life enables such offline communities to step up the digital media competence with simple and affordable technology based on smart phones and Android tablets.
wiLearn project focus primarily on the forgotten and most vulnerable people living in crisis areas and hard to reach places
> REFUGEES AND SLUMS

> REMOTE SCHOOLS

> RURAL UNDERRESOURCED COMMUNITIES

60 %
of the African population has no access to internet
World Internet users 2019 Poplation
Stats

SUSTAINABLE DEVELOPMENT GOAL



wiLearn 4 Life is part of the global initiative
3O - OUR APPROACH
At the heart of the wireless learning lab is the digital library full with curriculum relevant content accessed at zero cost. Digital information is available to 50 mobile learners at anyone time. No internet conncetivity is needed! The platform is powered with solar energy and batteries to operate up to 5 hrs per day in areas that lack reliable electricity.
> OFFLINE

> OPENSOURCE
3A - OUR DIGITAL CONTENT
we develop simple strategies using wifi technology to deliver safe quality learning content for the new generation of learners. Access is free and learning content is adaptable anytime via mobile devices. Upgrades from global networks can also be done when connected to an internet LAN adapter.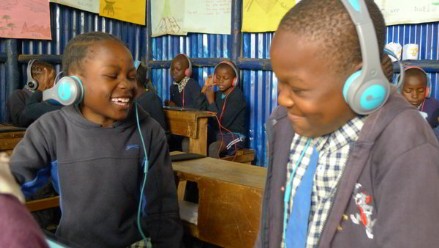 wiLearn 4 life
develops multimedia education modules adjusted to local context. We customize the content to suit the objectives of the learning communities. Workshops, facilitator and teacher training enhance confidence and competence to the level where digital content can be developed locally. Enriched server content depicting local culture and languages makes the learning hub more relevant for more people because access comes at zero cost.
We love to improve learning opportunities together with the most vulnerable children, youth, parents, teachers.
It is a big advantage that our offline learning hotspot is Child Safe. The server does not connect to a poluted internet and never distracts learners with social media channels. The local wiFi network is delivering the safe learning environment for anybody who can master an internet browser. Preloaded education modules are focussed on competency based curriculas, blended- and self-oriented learning skills. Digital media skills have become vital to reduce vulnerability and poverty. Children and Adults accessing quality learning content are better prepared to live a dignified life in a digitised world.